Sunday is the busy day for me to update my blog..
My manga blog,
EPL blog.
and another personal blog must be update to make my rss reader loyal to the blog.
I just read New Media blog with post
5 in Depth Questions for Darren Rowse
.. It is such a good interview for amateur blogger like me to learn how to make money.After read that post I just connect to Darren popular blog Problogger.comDarren revelead
his six moments become a pro blogger
.. The idea and tips from experience blogger help amateur blogger like me to gain more knowledge..
Jason Boom also post some tips
how to create your blogs perfume page
.. How he did it?? It is good tips coz sometimes our blogs is dull and without any smells.. It is such an marketing terms to get higher attention from customer and useful for blogger.

And TylerCruz announce to do some contest again.. The Banner Galore !! RSS Contest is coming.. T
here are a total of three prize packages up for grabs, worth over $400.. What a good prizes to win.. And it is easy to enter, just subscribing the blog at by email subscription... Such a good opportunity to get something..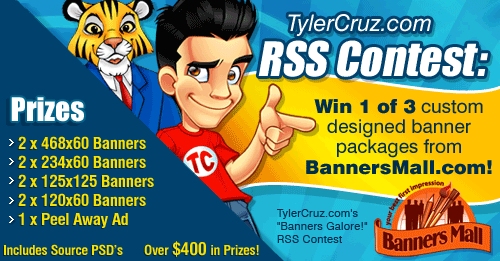 ...
Ok that's all.. How about your holiday?? Hope you always happy...