Hello all of reader.. I just relax and surf another blog.. And found something that make my boring read to become interesting..
Why???
There's a contest between this two pro blogger,
tylercruz
and
gyutae
.. They just want some vote from others blog.. And for voters there's a $100 to get from it..
Whoa.. Isn't it good opportunity to get from their contest..
After thinking about an hour I decide to
vote for tylercruz
but it ain't easy coz
Gyutae offer some t-shirts
..
Why I choose Tylercruz??
1) Tylercruz has a mascot and it is cute while gyutae don't have any mascot..
2) He use nickname as his domain while gyutae using phrase for his domain..
3) Addres for his post
http://www.tylercruz.com/vote-for-me-win-100/
much more good rather than gyutae address
http://www.winningtheweb.com/tyler-contest-vote.php
. Don't know why Gyutae include tyler cruz in his address.. Not good to promote enemy.. :)
4) Tylercruz has more-more subscriber ( 1000++) than gyutae ( 200++)..
5) Design for tylercruz is unique and more different than gyutae(His design looks like early
Johnchow
blog)..
6) Tylercruz much more handsome than gyutae.. Hohohoho.. ( You must send me some paypal for praise you much tyler)..
So that's the reason why I vote for Tyler Cruz.. I am sorry for you Gyutae... I think you must prepare to send the $100 to me.. Sorry.. Joke only..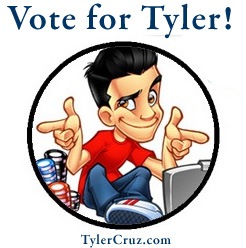 .
Who will win?? Can't wait to see who will be a winner.. So why you read this ?? Try yourself.. Maybe you can win this contest...
Technorati Profile