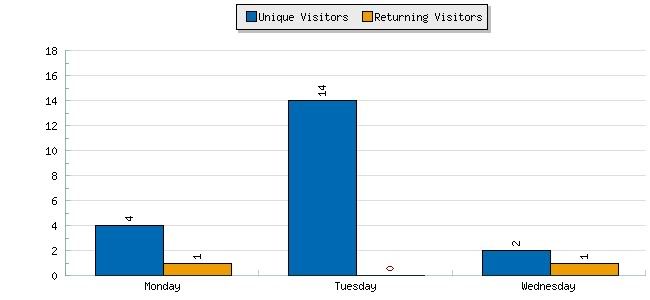 This is my boring blog statistic for 3 days.. I know maybe some of you will smile coz the low traffic for my blog.. I agree that my blog is new and can't attract more visitor for this time but I am in learning process. There's many things I've to improved. From my point of view I think I must improve :-
a) My poor language.. Honestly I'm not good in English but with this blog I think I can improve.. Sometimes I visit
http://www.thelinguist.blogs.com/
to learn about English.. I also improve my English by visit
cikguazleen
blog.
b) Content . There's no such good 'niche' in this blog.. I am just tryiing to find best content for me and readers..
c) Traffic. There's not an easy task to get traffic but I just go to popular blog such as problogger,
johnchow
,
johncow
and others blog.. It is useful for get any backlinks.. The other things is by joining forum.. This is one of way to promote this blog and i found it give some effect to my visitor blog..
b) My content.. It ain't easy to write good topic especially if we are not good in English and work at office.. But time management is very important to make sure the topic is up everyday..
c) Focuss.. This is very hard but without focuss, you cant concentrate..As a semi-pro I must focuss on what I must write...
d) Not give up..There's no give up for us.. Just writing, ignore bad or negative comment..
Okay maybe some of you know how I get the graph, but if not just sign in at
statscounter.com
.. Statscounter.com is a free reliable invisible web tracker, highly configurable hit counter and real-time detailed web stats. Insert a simple piece of our code on your web page or blog and you will be able to analyse and monitor all the visitors to your website in real-time!